3D Model vs. 360° Turntable: What's Best for Your Website?
Many Sketchfab customers tell us that they are confused about the differences between 3D and 360-degree images. These two technologies are both more inherently interactive than simple images. However, they do not offer the same benefits. Here's a quick tour of the differences between these two technologies:
Most 360 objects are made by taking several photos of a product rotating on a turntable. Once ready, customers can take a 360 tour of a product but won't be able to observe the whole product, especially its underside. 
3D models, however, are made either by (re)creating an object from scratch in 3D modeling software or by capturing an object via photogrammetry or another 3D scanning process thus displaying the whole object and offering the greatest degree of interaction.
This method is much more holistic than turntable-based objects, as you can rotate the object to any angle, zoom in on details and observe the interior. What's more, once you have created a 3D model, you can easily modify variations of it with different colors or textures, whereas a 360 image will require a new photoshoot for each version or revision. 
Our client Made.com has embedded 3D models on more than 1,000 product pages and observed a 25% increase in conversion rate.
360 – Small
3D – Unlimited
---
Both technologies improve traditional still images but turntable-based objects have some significant limitations. Because the 360 photo setup requires turntable equipment, only small products can be photographed— unless you spend additional time and money building a dedicated turntable setup for oversize products. 
There are no size limitations with 3D. You can create products of any size – from personal clothing to cars to full-size buildings.
The main fear that companies express to us about using 3D models is the ability to achieve a believable, photorealistic rendering of a product.
Luckily this is 100% possible with Sketchfab which, among other things, supports Physically Based Rendering and built-in Post Processing effects, that allow 3D content to look virtually identical to the original object.
Can you distinguish the photography and 3D model below?
360 – Limited resolution
3D – Yes
---
Real-time 3D models can scale dynamically to full-screen or any embed size you need without losing visual quality. 
A 360-degree viewer is rendered at a fixed resolution and will not scale dynamically, rarely offers a full-screen option, and may require re-rendering if embed needs change.
Original model "New Balance 997" by /aizaisia. Click on the fullscreen icon (bottom right icon), zoom in and out. The quality stays the same.
A great advantage of 3D over 360 is the ability to add 3D annotations to any 3D model. Annotations can link to any external source of information (e.g., links, media, images) thereby providing extra information about a product. 
Gutor PXC by Schneider Electric. 3D Annotations can help customers understand the different elements of a complex product and how that product works.
Finally, one of the biggest advantages of 3D over 360 is the ability to reuse your 3D models on different platforms for different use cases: 3D ads, internal sharing, embeds on social networks, configurators, and more!
Once you have your 3D models online you can easily embed them onto any website. With the ability to observe any 3D model in AR or VR directly from our app—something that is impossible with 360—the benefits of 3D are even clearer.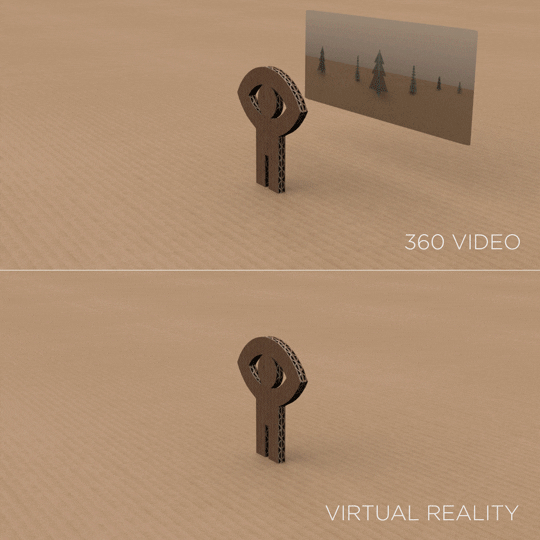 360
3D
Photo Realistic
✅
✅
Zoom
Limited
✅
Explore Objects from Any Angle
❌
✅
3D Annotations
❌
✅
Reuse Assets
Interactive Ads
Social Media
AR
VR

❌
✅